6-RIB vs 8-RIB FAQ
WHAT IS THE BENEFIT OF A 8-RIB OVER a 6-RIB?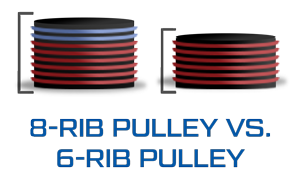 8 Rib belts provide 33% more surface area which results in more grip when your system is running at full strength. 6 Rib systems are a significant upgrade to a standard V-Belt System, but can still slip with high horsepower applications.
WHY NOT USE A 10 OR 12-RIB THEN?
We have found 8 rib to be the "sweet spot" when it comes to reducing belt slippage without going overboard. 99% of applications will be able to fit the additional 2 grooves of our 8 rib serpentine system in their engine bay.
WHEN IS A 10-RIB NECESSARY?
A 10 rib belt isn't required until you start talking about supercharged applications that increase your base HP and Torque by 35-40%. CVF's Supercharged Wraptor uses a 10 rib and 8 rib belt combo to get the most out of your supercharger.
ARE 8-RIB BELTS READILY AVAILABLE?
Absolutely! CVF stocks all sizes of Gates Belts required to get your kit ready to run.
CAN I GET 8-RIB BELTS ELSEWHERE?
Your local auto parts store will stock a large variety of 8 rib belts from various manufacturers. If they do not have a belt in stock, they can typically order it for you and have it to you within 24 hours.
WHY DO OTHER COMPANIES MAKE 6-RIB SYSTEMS?
6 rib serpentine systems are cheaper to make as less aluminum is needed. 20 years ago all you were able to find was 6 rib belts when it came to serpentine, but as time goes on, so does the demand for increased horsepower.
WHAT ARE THE CONSEQUENCES OF A BELT SLIPPING?
If you have a belt that is slipping, you are bound to notice a few things when it comes to your vehicles operation. Some of the more common problems:
Dead Battery
Tough or no power steering
Weak or no cooling from your AC Compressor
Engine Overheating